Meet Our Headliner Clinicians for the 2017 AzACDA Summer Conference!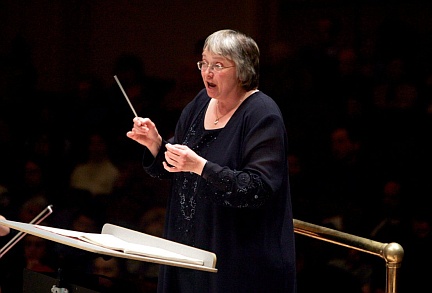 Dr. Anna Hamre
In demand as a conductor, adjudicator, presenter, and clinician, Dr. Anna Hamre has accumulated hundreds of guest engagements, mostly occurring during her 17-year tenure as Director of Choral Activities at Fresno State. She has conducted at Carnegie Hall twice on the MidAmerica series. Her sessions for various choral-conducting and music-education organizations have occurred at the local, state, and national levels. Her articles have appeared in state and regional music magazines, plus the International Choral Bulletin, The Choral Journal, and Spotlight on Teaching Chorus. Her extensive experience conducting choirs in school, church, and community settings has given her the opportunity to conduct numerous new works such as Joungmin Sur's "Like Streams We Gather," Anna DeFoe's "A God and Yet a Man," Bradley Nelson's "This Central Garden," and the American premiere of Philip Wilby's reconstruction of Mozart's Mass in C.
Hamre serves as Artistic Director of the Fresno Community Chorus, where she conducts the Master Chorale and Coro Piccolo. These choirs frequently collaborate with other area musical ensembles, especially the Fresno Philharmonic Orchestra. She is Professor Emerita at California State University, Fresno (Fresno State), where she served as Director of Choral Activities, and is the President of the Western Division of ACDA. Her work has taken her beyond the United States to Mexico, China, Italy, Austria, England, and Greece, and she is conducting a choral ensemble on tour to France and Spain in June 2017.
Recent honors include the Fresno Arts Council Horizon Artist Award (2007), the California Association for Music Education (CMEA) President's Award (2013), the CMEA Choral Conductor Award (2006), the CMEA Central Section College/University Music Educator Award (2006), Fresno County Office of Education Roy Klassen Award for Excellence in Choral Music Education (2015), the Fresno State College of Arts and Humanities Excellence in Teaching Award (2003), the Fresno-Madera Counties Music Education Association Choral Educator Award (2003), and recognitions from Fresno State music fraternities.
Dr. Hamre is the author of The High-School/University Sight-Singer (Masterworks Press), a music literacy method in use in every state plus the District of Columbia, Guam, British Columbia, Hong Kong, and Indonesia. The Weekly Sight-Singer: An Abbreviated and Accelerated Method, was released in the summer 2011.
Dr. Hamre holds a BA degree in vocal and instrumental music education from Augustana College, Sioux Falls, SD; an MM degree in choral music from the University of Northern Colorado in Greeley; and a DMA in choral literature and performance from the University of Colorado in Boulder. Before moving to California in 1999, Dr. Hamre worked in public schools, churches, and community ensembles in Colorado.
Tom Shelton
Tom T. Shelton, Jr. is a native of Greensboro, N.C. and a graduate of the University of North Carolina at Greensboro, where he earned both a Bachelor of Music Education and Master of Music in Choral Conducting. He is Assistant Professor of Sacred Music at Westminster Choir College. Focusing on children's and youth music at Westminster, he teaches classes in conducting, sacred music, music education and coordinates and conducts the Neighborhood Children's Choir Program. In addition, he is the Director of Music for Children's and Youth Choirs at Princeton United Methodist Church.
Mr. Shelton has a passion for music education in all areas: church, school and community. He taught middle school choral music in Winston-Salem/Forsyth County for 18 years. During that time he was selected Teacher of the Year for both Atkins Middle School and Kernersville Middle School. In 1999 the North Carolina Music Educators Association presented him with the North Carolina Middle School Music Teacher of the Year award.
Mr. Shelton is active with the American Choral Directors Association (ACDA), currently serving as the National President-Elect. Other ACDA leadership positions have included Southern Division President (2011-2012), National R&S Chair for Middle School/Junior High Choirs (2007-2009) and North Carolina President (2005-2007).
Mr. Shelton has conducted festivals and honor choirs in 20 states as well as Hong Kong. He has conducted Choral Festivals in Carnegie Hall, Honor Choirs for the Central Division ACDA and Southern Division ACDA, as well as All State Choirs in Alabama, Florida, Georgia, Kansas, Kentucky, Louisiana, Mississippi, Missouri, New Jersey, North Carolina and South Carolina. He is the Series Director for the Music for Young Voices Series with GIA Publications and has over 40 compositions published by Choristers Guild, Colla Voce Music, G. Schirmer, GIA Publications, Heritage Music Press, Hinshaw Music Company, Santa Barbara Music Press, and Walton Music.